For me, being a doula for the end of life means that I can contribute a combination of compassion, knowledge, and workability into our lives, in our dying process. I provide services beyond those of the medical profession, hospice care, and the funeral industry. I support individuals and their families, transforming the experience of dying for all who are touched by it.

My comprehensive, in-depth, six-part training prepares me to meet the wide array of needs that any client has. I customize my services depending on each unique set of circumstances.

Many years of meditating and practicing mindfulness prepare me to be present, compassionate, and even-keeled in even the most stressful situations.

I love working with clients and families from a variety of backgrounds, with a wide range of beliefs and wishes. And I bring my trusty Girl Scout values to providing these doula services.
Becoming an End-of-Life Doula
The training and certification program that I completed is the "Complete 6-in-1 Death Doula Training" from MourningDoula.com. This comprehensive training prepares me to bring professionalism, thorough preparation, and excellence in services to my clients.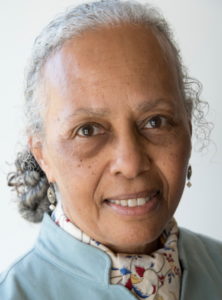 Rosalie Hunter Moore
My extensive work history in business, education, and nonprofit organizations includes many years of assisting people to analyze and sort out complex situations, to get things on track, and to reveal what is actually workable - for them.
It could be said that the dying process is perhaps the most complex situation any of us ever face ... and the one that our culture least prepares us for.
Next Steps...
Please contact me, and we'll talk about how I can support you in whatever end-of-life issues you are dealing with. With a doula, you don't have to face them alone.
DISCLAIMER: Doula services are intended to educate and to coach. They do not replace the services of medical practitioners, attorneys, mental health professionals, hospice providers, funeral directors, and others with whom the client is encouraged to consult directly for their expertise.